Rajpath Tableau: On the eve of Republic Day, President Ram Nath Kovind approved the conferral of 128 Padmas, along with 384 gallantry and other defence decorations to armed forces personnel and others. Today is the 73rd Republic Day of India, which is part of the Azadi Ka Amrit Mahotsav to commemorate 75 years of independence. Republic Day in India this year shows off the country's military might, cultural diversity, and a number of unique initiatives to mark its 75th anniversary of independence. There is fog covering the valley today as the county celebrates Republic Day. Presented by the Ceremonial Battery of 871 Field Regiment, the National Anthem followed by the National Anthem, with a 21-gun salute, as per tradition.
Netaji's 125th birth anniversary was marked with the unveiling of a hologram statue of the freedom fighter at India Gate in Delhi on January 23 by Prime Minister Narendra Modi.
The Indian Air Force will conduct a flypast at the event today with 75 aircraft. Ten large LED screens have been installed for spectators, five per side of Rajpath. Covid protocol required that we limit the number of guests this year. The President of India approved granting 384 gallantry and other defence decorations to military personnel and others eve of Republic Day celebrations.
There will be a total of 21 tableaux at this year's Republic Day Parade at the majestic Rajpath on Wednesday (January 26, 2022). There will be a display of 12 states and Union Territories, and nine ministries will be showcased.
Read Also: Happy Republic Day, 26 January 2022: Best Images and Wishes
According to Nampibou Marinmai, Defence Public Relations Officer, "12 tableaus of States and Union Territories like Gujarat, Maharashtra, Punjab, Uttar Pradesh, Goa, Meghalaya, Jammu and Kashmir etc will participate in the R-Day parade.''
Tableau of 12 states at Rajpath on the occasion of Republic Day
Jammu And Kashmir Tableau At Rajpath
Jammu and Kashmir's tableau will highlight the changing face of the territory in terms of development.
Gujarat Tableau At Rajpath
Gujarat's tableau will feature tribal revolutionaries, while Goa's will display a number of historical and natural attractions around the theme of 'symbols of gone heritage,' according to the PRO Defence.
Rajpath India Gate: Haryana Tableau
In the tableaux, Haryana is portrayed as 'The Number One in Sport in Haryana'. Taking up 1.3 percent of the country's area and constituting 2.9 percent of its population. Haryana won the majority of the medals the country won in national and international sporting events, including the Olympics, and has brought laurels to the country in the form of laurels.
Rajpath India Gate: Meghalaya Tableau
A tableau of Meghalaya will commemorate the state's 50th anniversary and its contribution to cooperative societies and self-help groups that have encouraged women. Handicrafts made from bamboo and cane will be displayed. Women-led cooperative societies have had a positive economic impact throughout the state as evidenced by the popularity of their products, he noted.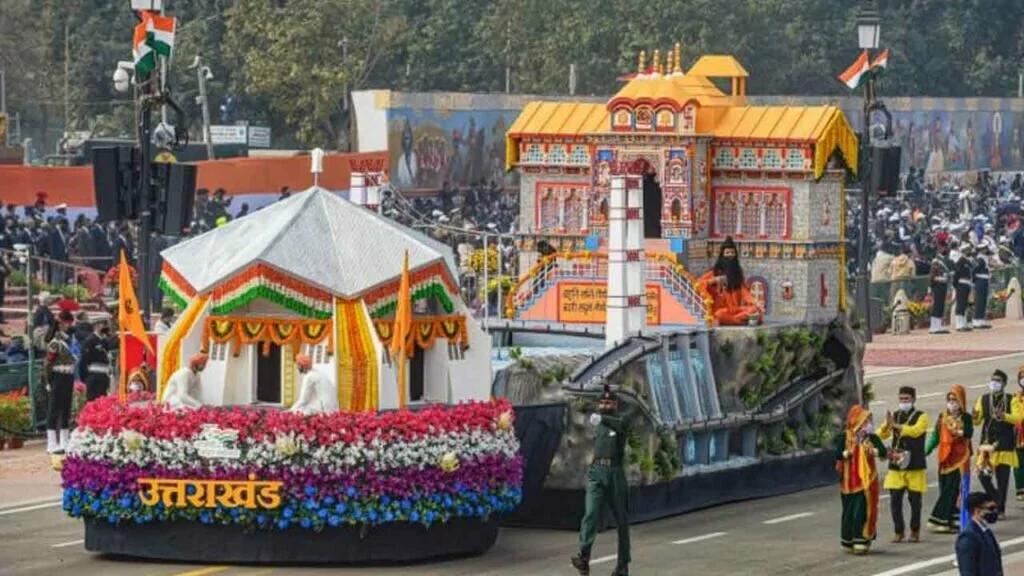 Rajpath India Gate: Uttarakhand Tableau
The state tableau of Uttarakhand is themed 'Pragati Ki Or Badhta Uttrakhand'. This project is inspired by the progressive development and projects in the field of connectivity and religious sites.
Rajpath India Gate: Karnataka Tableau
The tableau from Karnataka will focus on the theme of 'Credo of Traditional Handicrafts'.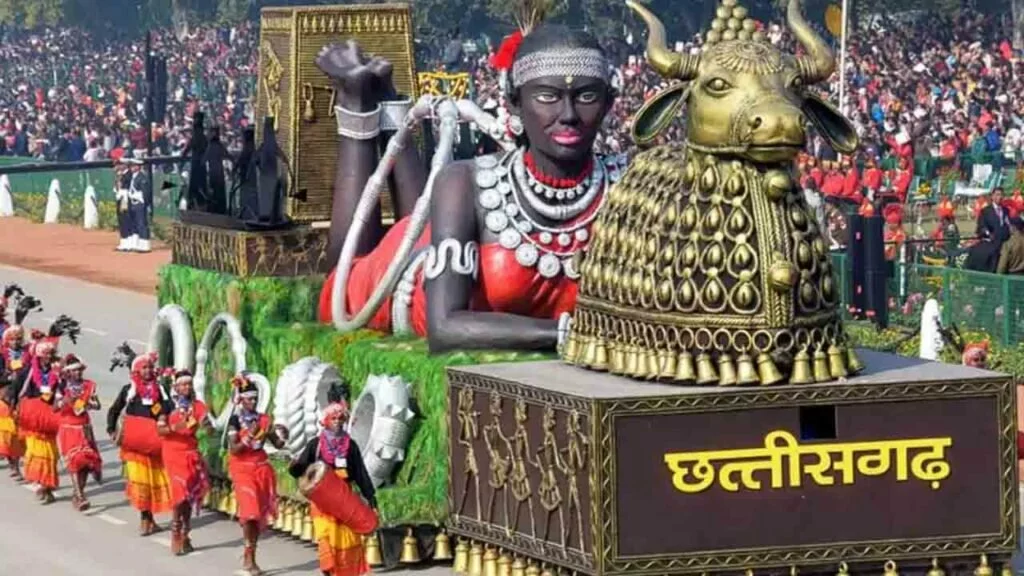 Chhattisgarh Tableau At Rajpath
The tableau of Chhattisgarh is based on its 'Godhan Nayay Yojna'.
Uttar Pradesh Tableau At Rajpath
ODOP (One District One Product) is a program that aims at skill development and employment and is the basis of Uttar Pradesh's tableau.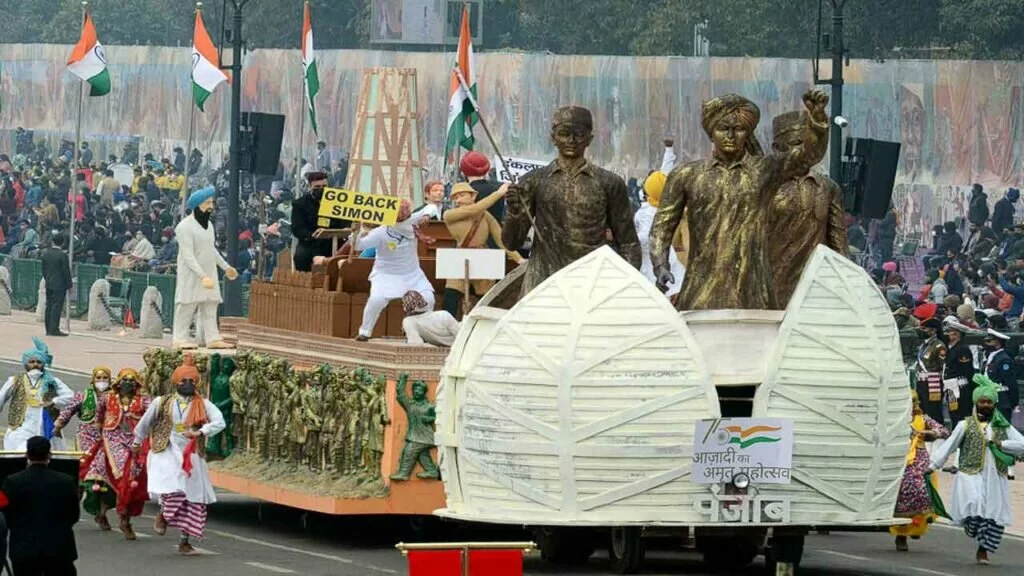 Rajpath.. India Gate: Punjab Tableau
The tableau for Punjab's 2022 Republic Day parade honors the state's invaluable contributions to India's independence.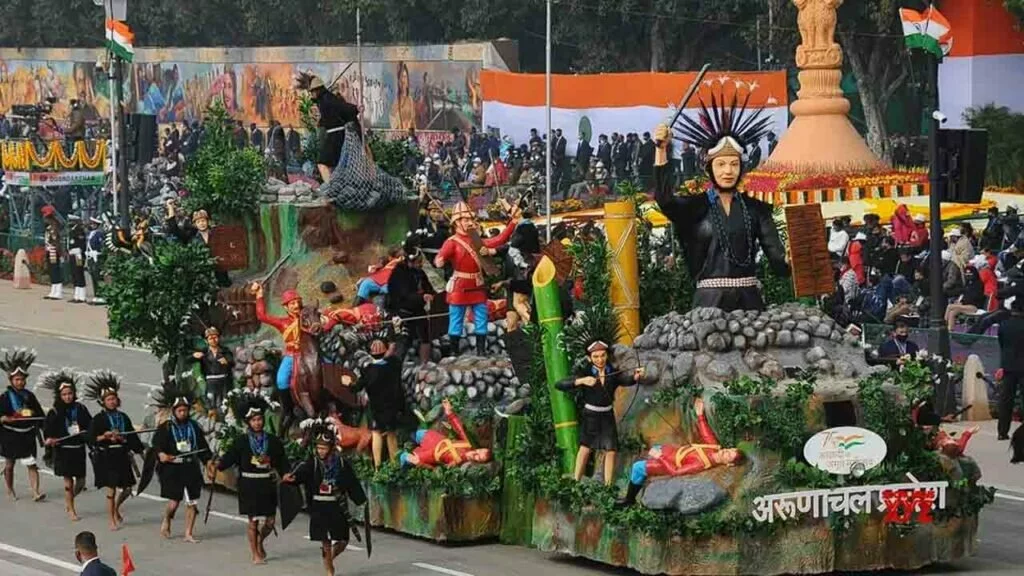 Arunachal Pradesh Tableau
Arunachal Pradesh's tableau highlights the resistance of indigenous people of the state, particularly those from the Siang region, originally called abors by the British who have bravely resisted the expansion of British rule in India.
Maharashtra Tableau
The tableau of Maharashtra is based on the state's biodiversity and bio symbols.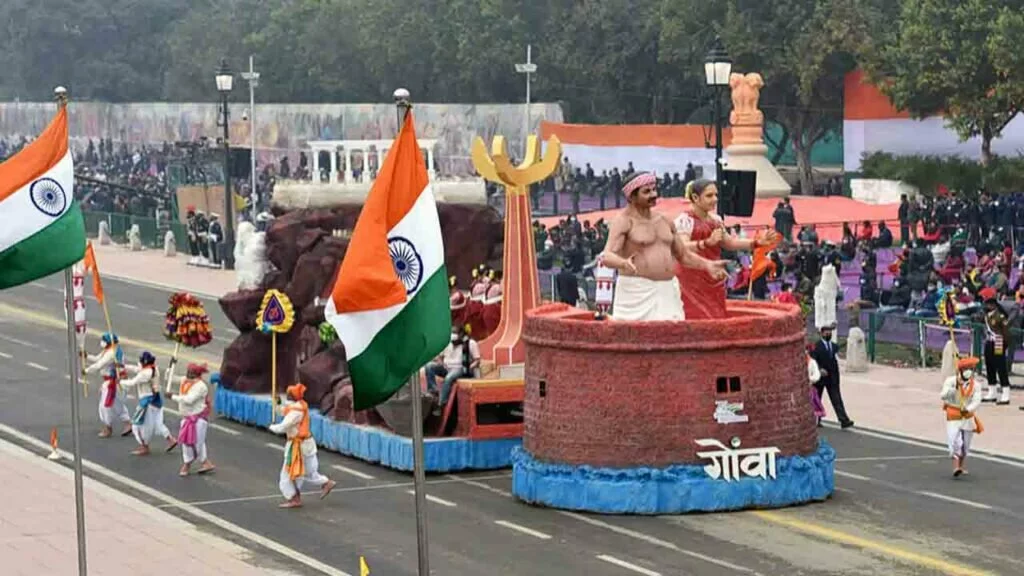 Goa Tableau
The theme of Goa's tableau will be "symbols of gone heritage," which will include diverse historical and natural landmarks.